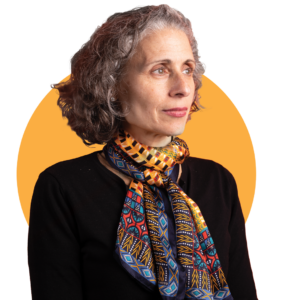 Dear friends, dear community,
With this biennial report, we are attempting to convey two years of enormous effort, adaptation, learning, loss, and regeneration – for the McGregor Fund and for our partners.  Like many of you, we find ourselves deeply changed by the experience of the pandemic.  As you'll read in pieces from our out-going chairperson, Rick Rogers, and from my colleagues Heidi Alcock and Vanessa Samuelson, we hope we are better for it.
The pandemic affirmed and amplified some tenets of our work and culture.  Our valued relationships with providers who work holistically with their clients and participants provided pathways for supporting individuals and families with direct aid, as these grant partners extended their reach into the community at a time of crisis.  Our longstanding practice of trusting partners with unrestricted support paved the way for rapidly granting highly flexible dollars for partners to use quickly at their discretion.  And our deep commitment to learning positioned us to see and support emerging needs and opportunities in real time.
We also saw clearly that we needed to acknowledge structural racism as the primary driver of Detroit's high concentrated poverty, and to prioritize racial equity and justice as key to its elimination.  In our anti-racism statement, we made commitments for which we can now be held accountable.  We opened up new conversations with our partners, many of whom envision and pursue a more just world every day.  They give us deeper purpose and inspire us to live up to their example.  We accepted that we have a role in supporting grassroots leaders and organizations that fill gaps in the social safety net; and we've begun to hand over resources and decision-making to community tables to identify and support those organizations on our behalf.  This brought us to question how else people who are closest to the work might inform and guide us.  (More on that to come.)   We've seen more clearly the burdens that leaders of color uniquely bear – both professionally and personally.  This has challenged us to find ways to support their leadership and well-being.
Despite extreme challenges, our partners have done affirming and herculean work these past two years.  They have also emerged with new insights, services, and projects underway.  And after years of building capacity, they are securing new funding to grow and evolve.  I encourage you to dig into the stories and organizations on our website.
Finally, I'm proud of how our entire board and staff worked together and accomplished what the times required of us.  Special thanks are owed to Rick Rogers, who retired from the board in December.  As chairperson, Rick stepped up to the unexpected demands of the times and led thoughtfully and inclusively.  I am especially grateful to have had his full support and wise guidance.
All of us at the Fund have renewed appreciation for the privilege and responsibility we hold and are excited about the work ahead.  I hope you'll let me know how we're doing and what we're missing – I'd love to hear from you.
Kate Levin Markel
President