A consistent focus dating back to our founders, we support non-profits that provide food, shelter and other necessities for day-to-day living, free of charge and at a significant scale, in a high-quality and cost-effective manner.
SOME EXAMPLES
Large-scale distributors of free food.
Best practice, evidence-based providers of shelter and supportive housing.
Holistic, casework-based programs that provide various forms of direct aid and help people pursue housing, transportation, education and employment options.
Programs that help people navigate and connect to complex systems of public and social supports.
High-leverage projects that increase the availability of primary care in the city of Detroit.
Charitable programs that respond rapidly to family and community-wide emergencies causing acute resource scarcity.
Providers of other essential resources such as clothing and furniture, that serve a city- or county-wide geography and provide goods free of charge.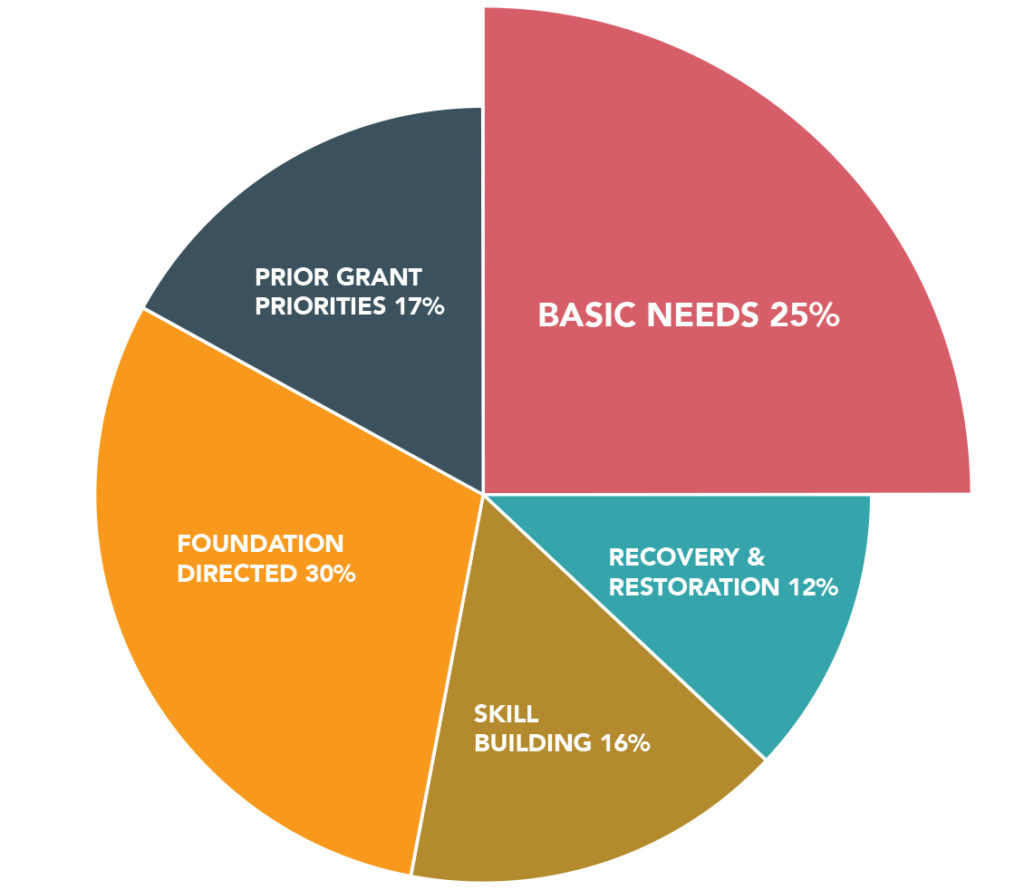 1 under $1M
5 $1M – $5M
1 $5M – $20M
5 $20M+
GRANTEE PARTNER INSIGHTS
"An ongoing challenge for clients is an unreliable local transit system….[and] a substantial number of clients have outstanding tickets that prevent them from having a valid license."
"During the past year, we also became increasingly aware of the threat posed by waste reduction practices being implemented by food businesses. We have learned that we will have to devote added resources to maintaining our current food resources while also pursuing new sources of food and striving to secure funds needed to transport loads of readily available surplus product from national stores."
"One of the most prevalent issues that continues to be noted through our analysis of client needs is the lack of reliable transportation…To combat this situation, we incorporated the following process: on a rotating schedule, our case managers visit senior citizen housing facilities, religious institutions and other community social centers to provide outreach at 'centralized locations' within the community."