Beyond Workforce Development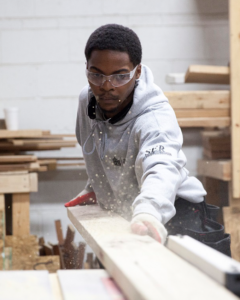 Reports of a strong national labor market with a record streak of job gains are of little solace to those most disconnected from employment. In the city of Detroit, where the workforce participation rate hovers around 53.4 percent, a significant proportion of job seekers face multiple, critical and interlinked barriers to employment, such as reliable transportation, affordable and quality child care — and, most vitally, stable housing. As Ann Leen, Assistant Vice President for Youth Programs at SER Metro-Detroit puts it: "If you don't have a job, how are you going to pay rent? If you don't know where you're sleeping tonight, how are you going to show up for your job tomorrow?"
The Workforce Intelligence Network for Southeast Michigan (WIN) highlighted these and other barriers to employment in a report sponsored by the McGregor Fund entitled Supporting Job Seekers Facing Multiple Barriers to Work. Chief among its findings is the fact that these barriers often lie beyond the scope of existing workforce development programs. 
For almost 50 years, SER Metro has worked to cultivate a qualified, skilled and adaptable workforce for metropolitan Detroit. The Fund has supported their youth programs, which serve 16 to-24 year olds, and witnessed the tremendous work SER Metro has done to not only meet and exceed federal benchmarks, but also to provide services which center on the dignity and holistic needs of the people they serve at every opportunity.
To visit the SER Metro Youth Career Center in Southwest Detroit — one of two Youth Career Centers they operate in the city — is to see an approach to workforce development that acknowledges in theory and practice the many hurdles job seekers face, and seeks to address them expeditiously and in the same place. "By the time someone walks through our doors, they desperately need something — a job — and they need it yesterday. And we are going to respond with, 'We can help you with a lot of other things, too,' " explains Leen. 
So, SER Metro collaborates with other service providers to address the many and varying needs of job seekers who use their services. They provide on-site supports through partnerships with Gleaners Community Food Bank, Detroit Wayne Mental Health Authority and private mental health service providers, in addition to on-site childcare assistance, daily tutoring, and vision and dental screenings.
SER Metro also leverages unique relationships with local employers to prepare and place students, and to design curricula responsive to the demands of the day. "We are not in the business of training and praying. We're in the business of training and placing," Leen says. "Our students love us, but they want to hear from employers that will hire them. It's great when we tell them how to make a resume, but when Motor City Electric comes in and tells them they need a resume, and it needs to look like this, they will sit up and listen." 
Beyond the innovative, barrier-breaking work organizations like SER Metro perform, the WIN report highlights the role funders can play in addressing barriers to employment for the most disconnected — namely, in the provision of unrestricted funding. Federal workforce funding limitations and eligibility requirements often cause many Detroiters to fall through the cracks, effectively limiting the number of people providers can serve. "The funding that McGregor provided helped us to open up a lot of those doors — [funding] things we couldn't previously fund, in terms of barriers or young people we couldn't fund or support," says Leen.
In practice, this allows SER Metro to offer incentives like transportation assistance to promote student retention and participation: "McGregor allows us to offer stipends — federal  funding doesn't — and that helps with retention in our programs. We're talking about individuals who are trying to support families," explains Veronica Sanchez Peavey, Senior Assistant Vice President of Adult Programs at SER Metro. 
Funders also have a key role to play in supporting general, sustainable operations. "McGregor gave us a multiyear grant, and that is a game changer," says Leen. "It might be because we're a workforce entity, but we spend a lot of time talking about staff morale and turnover. For our young people, and anyone in this community, to come in and see the same staff member year over year, that provides such value for them in terms of feeling like they don't have to explain their challenge over and over again; they don't have to start from ground zero, and they know that there's someone who's going to stand up and give them a big hug." As we acknowledge the foundational nature of employment as a pathway out of poverty, the Fund has been heartened by the work that SER Metro has done to provide services and programs responsive to the interlinked nature of these employment barriers.